ALuminum CNC Turning Components
Product Detail
Product Tags
CNC Turning Parts:
Our CNC lathes enable high speed and high quality turning of both plastics and metals. The turning process allows for complex external geometries and internal bores to be generated.  Our turning capacity is available for one-offs through to batch production of your components. Also turn-milling compound machine with tool tower with higher efficiency.
Advantage of turn-milling machine
(1) Shorten the product manufacturing process chain and improve production efficiency. Turning and milling combined processing can complete all or most of the processing procedures at one time, thus greatly shortening the product manufacturing process chain. This way, on the one hand, the production assistance time caused by the change of the installation card is reduced, and the manufacturing cycle and waiting time of the tooling fixture are also reduced, which can significantly improve the production efficiency.
(2) Reduce the number of clamping and improve processing accuracy. The reduction in the number of card loading avoids the accumulation of errors due to the conversion of positioning benchmarks. At the same time, most of the turning-milling composite processing equipment has the function of online detection, which can realize the in-position detection and precision control of key data in the manufacturing process, thereby improving the processing accuracy of the product.
(3)  Reduce floor space and production cost. Although the price of a single unit of turning-milling composite processing equipment is relatively high, due to the shortening of the manufacturing process chain and the reduction of equipment required for products, as well as the reduction in the number of fixtures, workshop area and equipment maintenance costs, it can effectively reduce the overall fixed assets The cost of investment, production operation and management. "
CNC Machining turning parts
MAX cnc machining OD at 300X300mm
Roughness of surface:Ra≤0.1μm
Precision:+/-0.005mm~+/-0.02mm
Drawing format:PDF,JPEG,AI,PSD
Min tolerance control at +/-0.01mm. 
Process:Custom cnc machining,Other processes include hot stamp forging, compressed forging
| | |
| --- | --- |
| Product named | Cnc Machining turning Parts |
| Size | Customized sizes |
| Precision | +/-0.005mm~+/-0.02mm |
| Application | for Surgical mask machine |
| Certification | ISO9001:2008,IATF16949, ROHS |
| Material Capabilities | Aluminum, Brass, Bronze, Copper, Hardened Metals, Precious Metals, Stainless Steel, Steel Alloys |
| Type | Broaching, Drilling, Etching / Chemical Machining, Laser Machining, Milling, Other Machining Services, Rapid Prototyping, Turning, Wire EDM |
| Mould structure | Continuous |
Inspection Process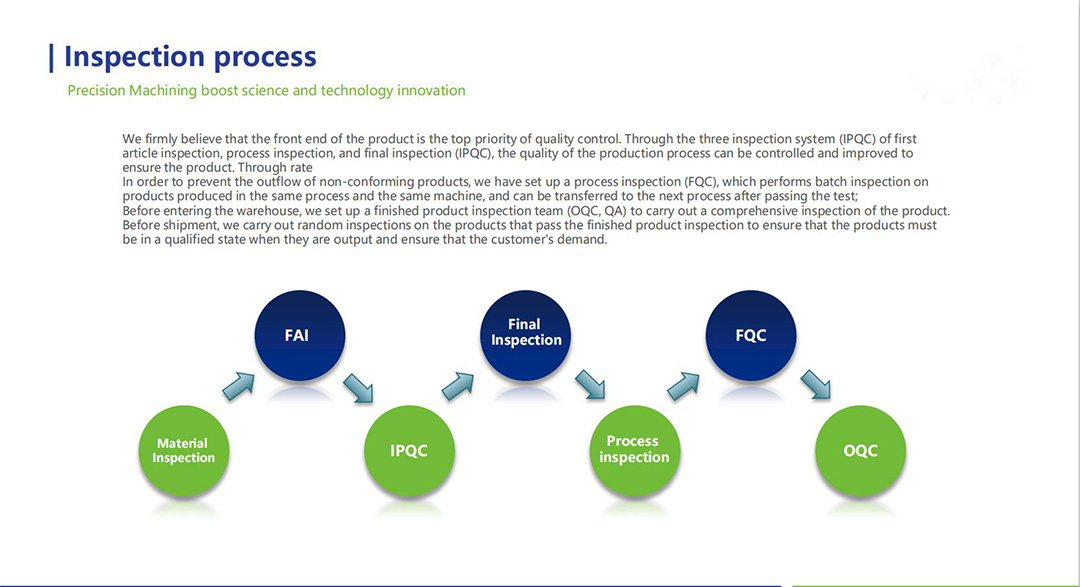 Advantage
1) Offering video and photos with details freely during production.
2) Producing according to the accuracy of drawings, assembly measurement to detect function and  strict quality control to ensure 0 return rate
3) 99% orders can be ensured delivery time
4) The materials we use are optimal
5) 24 hours online service
6) The competitive factory price with the same quality and service
7) The most suitable packing method to different products.
---
Previous:
EDM Machining Accessories
---
Write your message here and send it to us